MODULAR

COLD RUNNER BLOCK C3

Improve the performance of your molding process with the only modular CRB able to keep the compound in a pre-vulcanization state and get rid of all the issues of the other CRBs currently available on the market.
No more long starting time
No more changes and connection and wiring
No more endless spending for maintenance
No more cumbersome and dangerous handling
No more waste of compound and non-conformities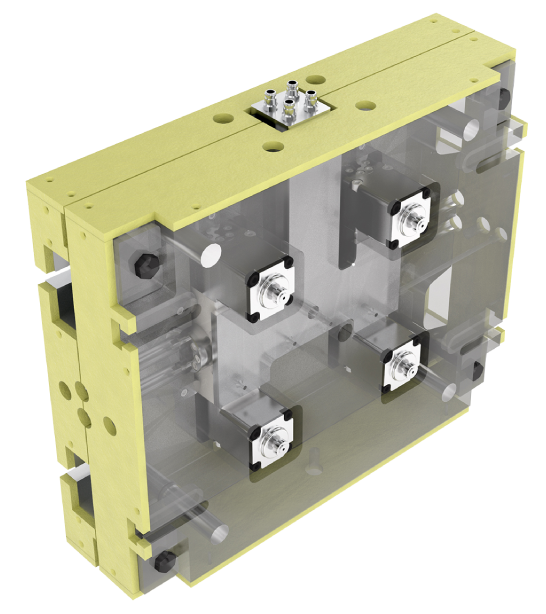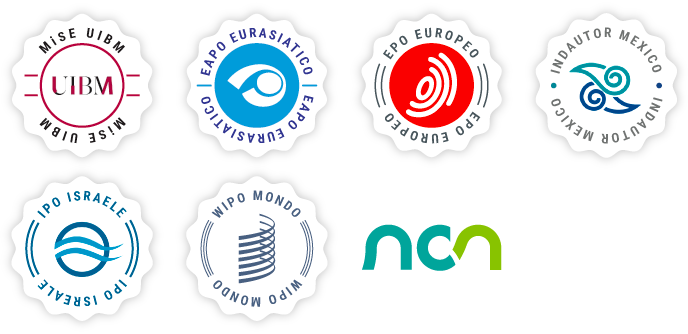 TIME SAVING
Compound change in 20 minutes, directly on the press machine.

Deep core cleaning made easier thanks to special plugs.

Fast and guaranteed maintenance time.

Easier and safer handling thanks to its weight, which is 40% lighter compared to traditional CRBs.
MONEY SAVING
It can be used on presses with no need for wiring or other modifications.
Lower power consumption thanks to less stress on the control units.

No risk of electrical failure.

Less maintenance of both the block and the control units.
Less storage space required thanks to its small footprint.

GREATER PRODUCTION
Always homogeneous and constant temperature of the mold plate (differential of only 3° C).
Improved cycle time.

Repeatability of the molding process, lesser waste.

Greater press-machine opening during molding.
Why
to choose

a cold runner block

Using a CRB means adopting an injection system able to keep the compound at pre-vulcanization temperature before injecting it near or into the mold.

This is made possible thanks to:
insulation from the heat source;
a controlled cooling system.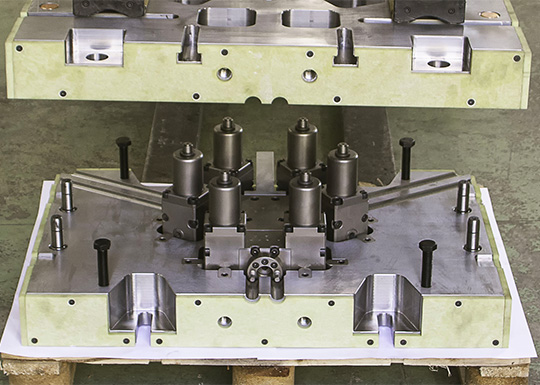 Benefits
Better handling of difficult, highly accelerated compounds.

Reduced risk of burning the compound.

It is possible to inject the compound in several points of the mold.

It is possible to use multiple-cavity molds.

Reduction of non-conformities.

Homogeneity and repeatability of molded items.
CUSTOMERS' REQUESTS
CRBs help you meet the needs of those major customers in the rubber industry who are no longer satisfied with the cheapest-cost-per-piece policy and who are now looking for:
Manufacturers able to solve customers' problems by anticipating needs and opportunities.

Technical items and gaskets with increasingly higher performance to comply with the most demanding regulations.

Reliable production timing.

COMMON ISSUES WITH TRADITIONAL CRBs
Despite solving several molding problems, traditional CRBs are, however, known to complicate certain aspects of the manufacturing process, which can have adverse impact on timing, costs and safety for your company:
Start-up times are considerably dilated.

Traditional CRBs are hardly compatible with two different presses.

Several control units are required for operation, with consequent higher risk of breakdowns, slowdowns and machine downtime due to the higher stress the units are subjected to.

Unpredictable maintenance time and costs: repairing operations may require weeks, weighing down your production time considerably.

Traditional CRBs are heavy, e.g., a traditional CRB of 670 × 670mm weighs about 700-900kg, making handling complex and dangerous.

Manufacturing and supplying a traditional CRB take months from the date of order.
How can you enhance your production process without traditional CRBs giving you headaches?
---
WHAT IS C3 INJECTION SYSTEM?
C3 is a new type of cold-runner injection system, conceived and designed to solve the same problems as traditional CRBs, yet able to improve molding performance by eliminating all the above-mentioned criticalities.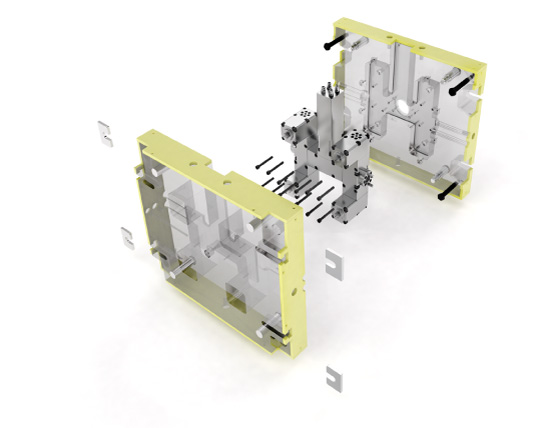 What makes a C3 stand out
C3 is one of a kind, and its features has revolutionized the world of cold runner blocks.
Modular structure and removable core
Compound change on the press in around 20 minutes.

Quickly interchangeable cold runner core: it is possible to have a single shell with multiple cores (e.g., one for each compound) which can be stored until next use.

The compound stored inside the core for future use does not vulcanize.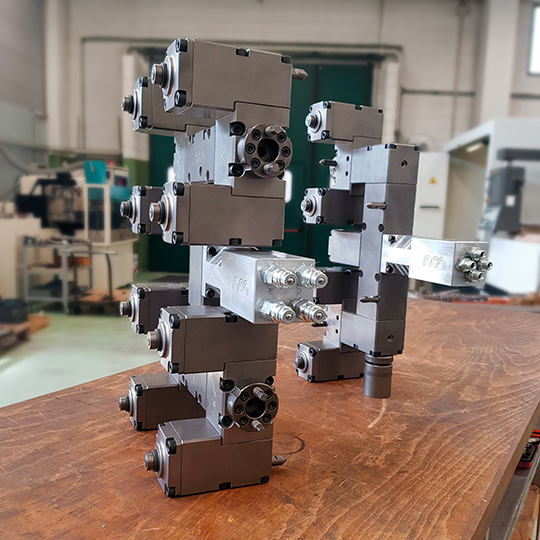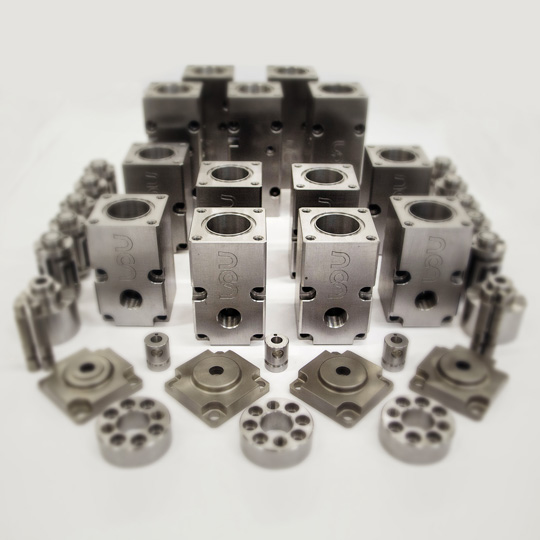 No heating plate needed, as C3 exploits the press plate
No wiring or expensive modifications to the press machines are required.

Money saving.

It can be used on all presses installed in the production facility, compatibly with dimensions and fixings.
The plate in contact with the mold keeps a homogeneous temperature
In each point of the mold where temperature is measured, the MAXIMUM thermal differential recorded is 3°C only.

Optimal vulcanization and utmost quality of the production process.

Less swarf, fewer non-conformities and less compound waste.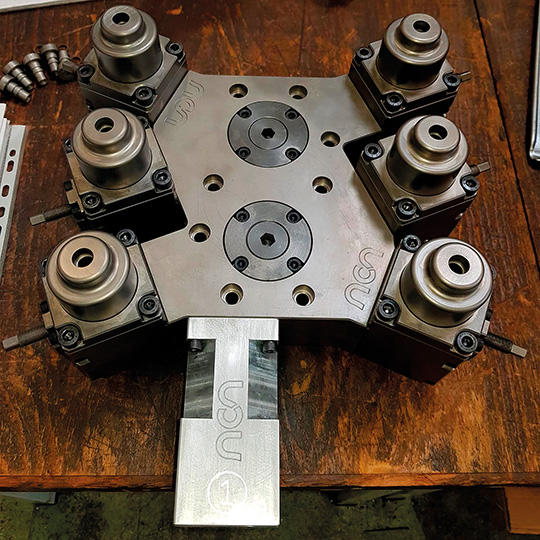 Parallel nozzle cooling
All injection nozzles are kept at the same temperature.

Temperature is kept homogeneous throughout the compound while injecting.

The compound does not burn.
Optimized thermoregulation
Just where the compound flows.

Half the control units needed with traditional CRBs are required for operation.

Less stressed control units and reduced risk of breakdowns.

Lower power consumption.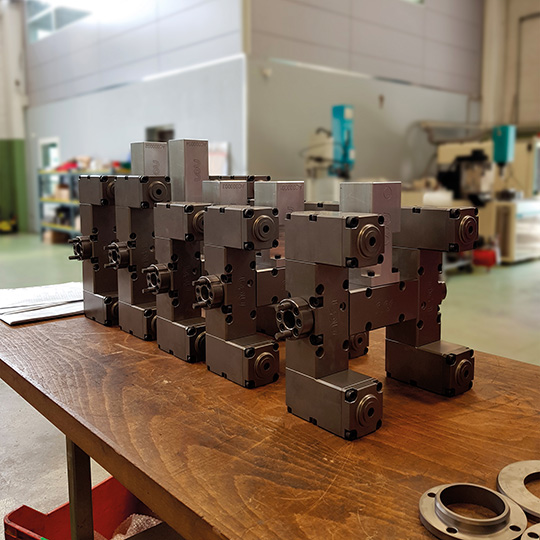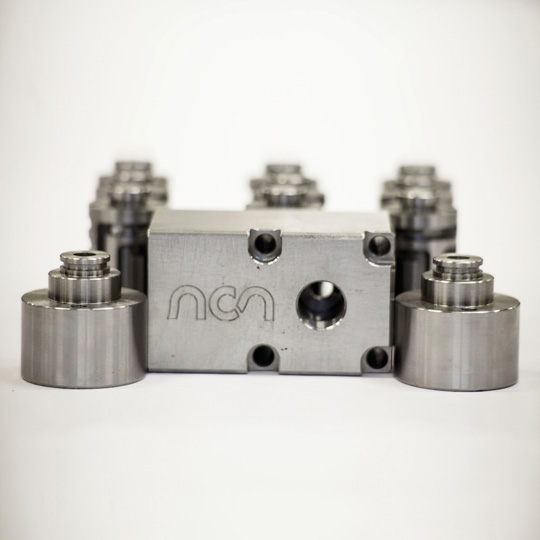 40% lighter than traditional CRBs
Quick and easy handling.

Quick compound change.

Greater safety of staff.
Only 166mm in thickness
The temperature transmitted to the mold is kept homogeneous and constant throughout the process.

Less storage space.

Quick and easy handling.

Greater opening of the press for greater freedom of action while molding.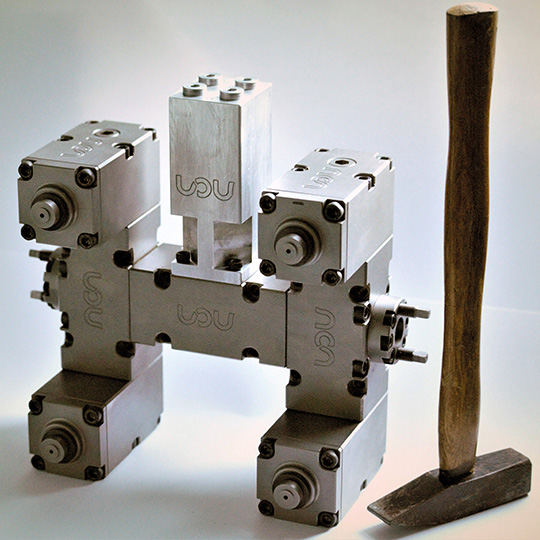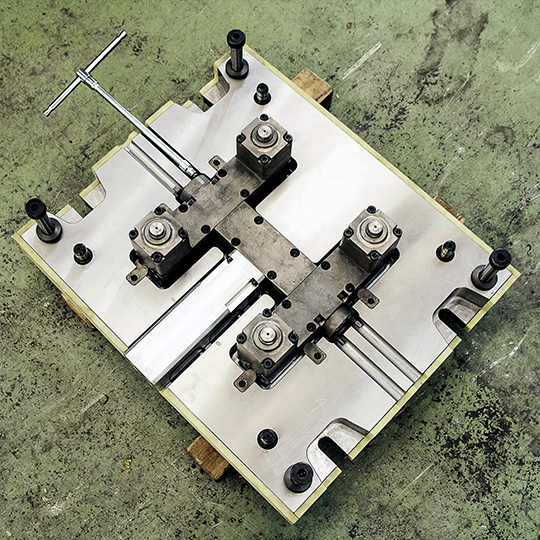 Cleaning plugs
Quick and easy cleaning.

No continuous purging.

No need to act on 60-80 screws as in traditional cold runner blocks.
MOLDING METHODS:
COMPARISON

CHART

The chart below shows a comparison between C3 injection system, traditional CRBs and molding without CRB.

Without CRB
Traditional CRBs
The compound is kept at pre-vulcanization state
Thermal differential (difference in temperature measured at different points of the mold)
It depends on the heating plate; nonetheless never below 5°C
3°C
It depends on the heating plate; nonetheless never below 5°C
Risk of electrical failure of dedicated heating plate
Impossible
Impossible
Possible
Maintenance time and costs
N.A.
Transparent
Not definable
Delivery time
N.A.
8 weeks from date of order(1)
Months
Press opening
N.A.
Optimal
Reduced
Compound-change and cleaning time
N.A.
Around 20 minutes directly on the press
By means of continuous purging or else by opening the block (which requires acting on 60-80 screws and takes around 4 hours)
Compatibility with all kinds of injection presses
N.A.
No modification or wiring required
It requires modifications and wiring
Suitable for all kinds of existing molds
Reduced dimensions of the runners (Ø and length)
Homogeneous temperature of the nozzles
N.A.
Flow regulator
N.A.
It depends on the CRB
Thickness
N.A.
166mm
≥ 250mm
Weight of a CRB of 670x670mm
N.A.
420-540kg
700-900kg
(1) Processing time for the manufacturing of a 4-nozzles C3
Do you need further information? Contact us here.
Request a meeting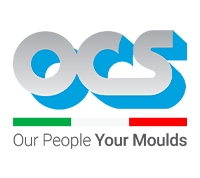 O.C.S. is sole distributor of C3 overseas.
C3 is designed and manufactured by NCN Technology.
Send us a message
Fill in the form, we will contact you within 24 hours.
Fields marked with are mandatory.
Who we are
NCN Technology, patent holder of C3, is a company specialized in the design and manufacturing of elastomer injection-molding systems for industrial gaskets. Trusted partners to meet your needs and provide you with consultancy and technical support throughout your project.
NCN Technology was founded in 2013 by Guido M. Castoldi and Andrea Naboni who, for over 20 years, have been helping mold makers in the rubber industry automate work cycles and maximize production, while improving quality of finished products.
In 2018, NCN Technology achieved the ISO 9001:2015 Quality Management System Certificate.
What we do:
Preliminary consultancy to evaluate the item to be molded.
Mold design consultancy.
Mold designing.
Mold manufacturing.
Mold supply and possible testing.
Item co-design together with the customer.
Training and post-sales consultancy on the best practices for using, assembling/disassembling and maintaining the mold.
C3 is a patent by
Set up a meeting